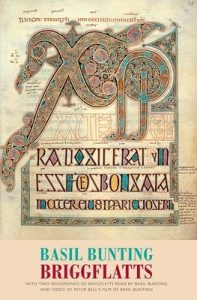 When I was in high school, I memorized "The Waste Land" and recited it to my English class over the course of two class periods. It was my favorite long poem until I discovered Eliot's "Four Quartets" in college. Shortly after that, however, I was introduced to Basil Bunting's "Briggflatts," and it quickly became – and has remained – my new favorite.
All three poems derive from the same poetic milieu – both poets were discovered and promoted by Ezra Pound – and can be hard to follow at times because of their allusive and fragmentary styles. "Briggflatts" follows a fairly simple quasi-autobiographical framework: a young man becomes estranged from his father and his first love and spends his life on the run from that past, striving to become a great poet but finally coming to a kind of acceptance (about both himself and the woman) in the end. However, these details are just the starting points for a journey that takes us through the seasons of the year and the landscape of Northumbria, invokes legendary and mythical figures of the past, and even ventures out to the stars.
Both poets drew upon the past in their struggle to find meaning in the present, but one minor difference was that Eliot's (adopted) culture was Western European while Bunting's was Celtic, and one major difference (perhaps related to the first) was that while Eliot's struggle seems to have occurred entirely inside his head, Bunting's was felt in the body, leading to a very different tone in the end, particularly concerning women, sex, and the natural world.
Consider these lines:
Decay thrusts the blade,
wheat stands in excrement, trembling.
Or these:
A boy's jet steams from the wall, time from the year,
care from deed and undoing
Or the extended passage in the first part of the poem when the boy and girl make love "naked on the pricked rag mat…gentle and generous," exchanging "words to confirm and delight / until bird dawn."
I love all three of these poems for the complexity of their poetic textures, the richness of their cultural and mythological sourcings, and the epic and essential nature of the journeys they undertake. I ultimately like "Briggflatts" best because its journey begins and ends firmly in the stone, soil, and star-haunted skies of this beloved earth.
Purchase Bunting's Briggflatts from Bookshop.org
Purchase Bunting's Briggflatts from Amazon.com
Read my short Goodreads review of Bunting's Complete Poems