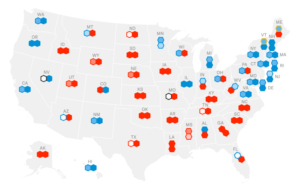 image captured off the FiveThirtyEight.com website
Brett Kavanaugh has just been appointed for life to the highest court in the land. I believe that the best Democratic (and democratic) response we can make to this is to retake the Senate that confirmed him.
Here are the six key Senate races this year, according to the Princeton Election Consortium (PEC): NV, ND, MO, FL, IN, and TN. Democrats need to win five of them to retake the Senate. You can donate to all of these campaigns at once through this page set up by the PEC. I've also linked each state above to the website for its Democratic candidate if you want to donate directly or volunteer to help.
If you're willing and able to donate to other candidates or organizations as well, check out this earlier post of mine for some good ones. But I believe we should concentrate our remaining efforts, especially in the wake of the Kavanaugh confirmation, on the Senate. They say the best revenge is to live well, so let's retake the House and the Senate this November and the White House in 2020, and continue the slow work of building a civil and equitable society.
Please share this as widely as you can!